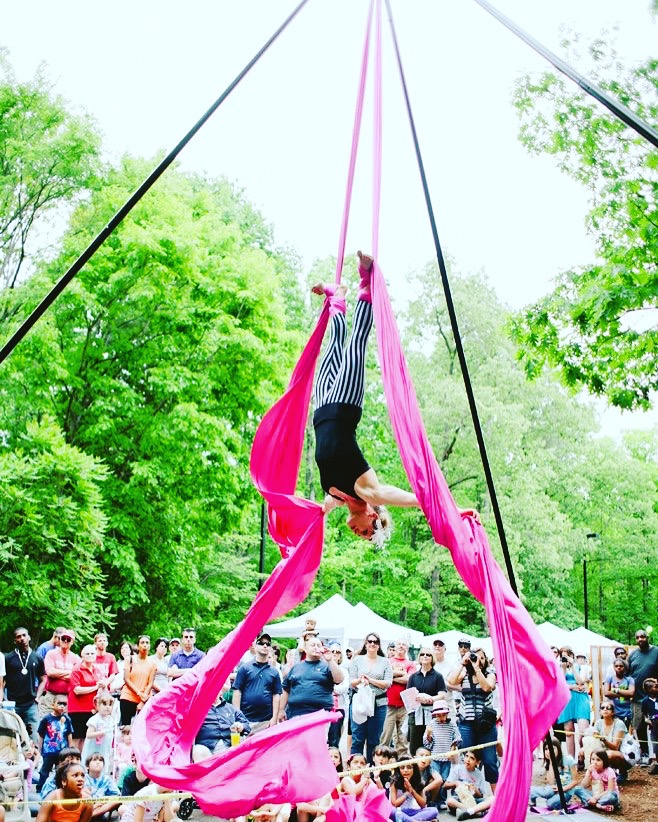 "Inspiring and breathtaking performances, made our annual Gala so inspiring to be a part of". - Jesse Menedes KFC Canada.

" We would absolutely recommend hiring Down to Earth Aerials for your entertainment needs. Amanda and her team were extremely easy to work with and made our first foray into the aerial acrobatics world a seamless process." -Tyler Hoke Marketing and Communications Manager, Watkins Glen International.
We are
Down to earth aerials
Create the WOW factor with our stunning aerial and acrobat performers for your events!
At Down To Earth Aerials we have the highest standard of aerialists, acrobats and cirque entertainment for your corporate events, private parties or public events. Choose from aerial silks, aerial hoops, trapeze, Acrobats & Champagne aerialists! Our aerialists are renowned for thrilling audiences with high-energy and tightly choreographed aerial silks displays.
Our aerial artists can perform on our free standing rigs if your venue does not have the rigging points. If you prefer, we have floor based acrobats who have performed for clients such as Makita tools, The Virginia Museum of Fine Arts, The North Carolina State Fair, North Carolina Museum Of History, KFC Canada, and Watkins Glen International Speedway! For low ceilings, our hoop artists are perfect as the acrobats are closer and create a more interactive performance. We also offer top rigging experts so your event will run smoothly. Please call us today and we can recommend the best aerial or acrobatic act for your event.
At Down To Earth Aerials, we have some really unique aerial acts, such as our amazing aerial bartenders, blind folded Lyra duo, and LED Aerials. Along with these acts, there are a selection of traditional aerial shows: Silks – solo and group, Hoops – solo and group, Trapeze, Rope, Hammock, and .dancing straps.
Down to Earth Aerials offers some of the finest and unique aerial performers from around the world, who combine remarkable strength, extreme flexibility, and creativity. Aerialists are perfect for cirque themed entertainment for any event. Our professional Aerialists have a large range of costumes and music selections to customize and match with your own personal theme for your Event. Hire Down to Earth Aerials to make your event a memory that your guests are sure to never forget.
Celebrating Amanda Finch's graduation from Ecole Cirque Du Nationale of Cirque Du Soleil