"As a performer, Amanda combines two elements to make her shows so compelling and entertaining. Her acrobatics are polished and visually stunning, and her demeanor is humble and genuine.
Her skill and spectacle provide a visual feast for young eyes, and her precision and care with set up and execution allowed both staff and audience to enjoy her show without ever being concerned for her safety. This makes the event engaging, fun, and memorable because it is so unique to summer reading.
Amanda's approach to her work and to people is also what makes us want to have her back. She was flexible with her first performance with us, adjusting to space issues with grace and humor. After her performances, she took photos and talked with as many children that wanted. She is prompt, professional, thorough, and adaptive. And she is genuinely interested in inspiring the children.
I highly recommend Amanda the Aerialist."
~ Peter Turner, Children's Librarian, Central Branch, Greensboro Public Library, City of Greensboro
Our summer reading program has been a great success. Having performed at over 100 libraries in North Carolina Amanda Finch of Down to Earth Aerials says "We strive to educate, inspire, and motivate children to read, exercising the brain and body". "Given the visual aid of an aerial acrobatic performance, that then comes "Down to earth" to explain the math involved as well as the studies of an aerialist in a daily setting, has made it a hands on learning experience sure to encourage children to read and use their imagination." Amanda Finch Creative Director of Down to Earth Aerials-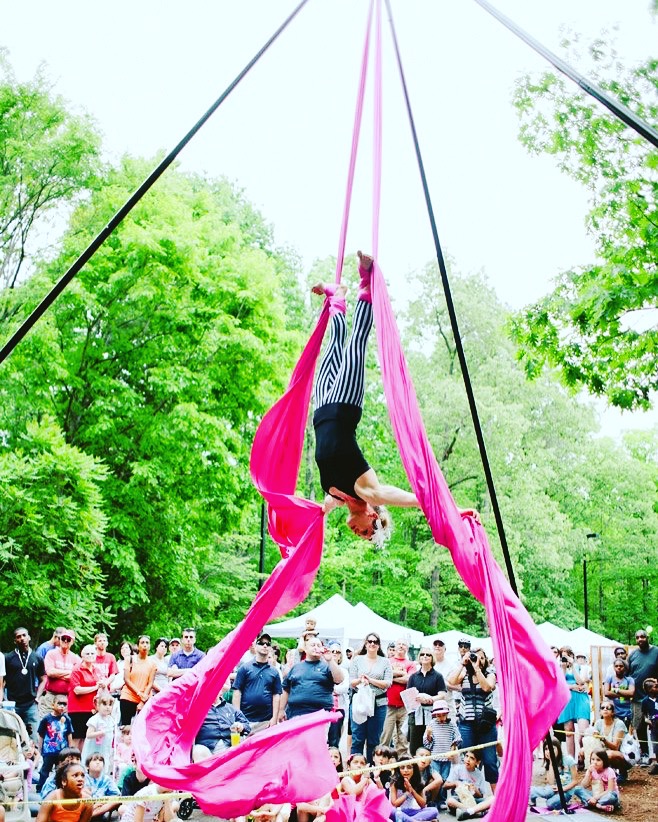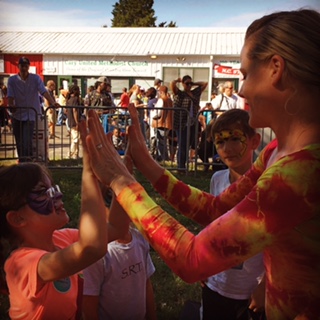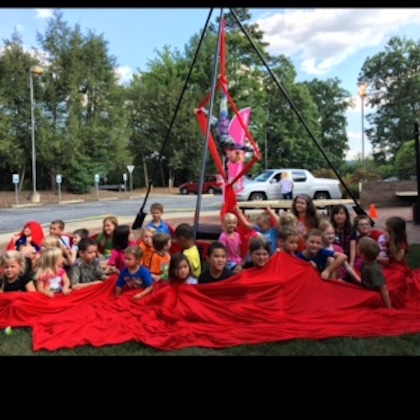 Amanda Created a summer reading program that includes an aerial acrobatic performance, and a interactive presentation where she explains the mechanics, physics, muscle memory and all the reading she had to do to become a professional acrobat and Instructor. Amanda inspires adults and children sharing her personal story of starting out as an acrobat that was 40 pounds heavier.
" I like to help people understand that anything is truly possible with hard work and determination. It is a daily practice to actively feed your brain, soul, and body with good things, I want to motivate kids and folks to do this, that is my goal. I like Sharing how fitness and education helped me shape, challenge and develop personal growth, is the best part of my presentation and I never get tired of telling everyone about this process, and I also love getting to high five all the kids at the end, it fuels my heart." Amanda Finch-
This summer reading program offers children the chance to ask questions and explore their curiosity. Amanda even offers all the children the opportunity to sit in the aerial fabric in a low hung hammock and experience what it is like to cocoon and feel weightless. This program is educational, interactive, cultural and engaging for kids & adults as well.
The goals of the summer reading programs are to motivate families and children to read for pleasure, help school-aged children maintain reading skills, establish the library as a vital part of the community and encourage partnerships with schools.
"Public libraries provide not just reading during the summer, but other types of learning, such as (STEAM) programming, science, technology,math, art, music and humanities," says State Librarian Cal Shepard. "Our libraries serve as community gathering places, host educational, and cultural events and book clubs, provide technology and computer services, and help kids get excited about reading. There are close to 400 public library outlets in North Carolina, and they can be found in every one of our 100 counties."